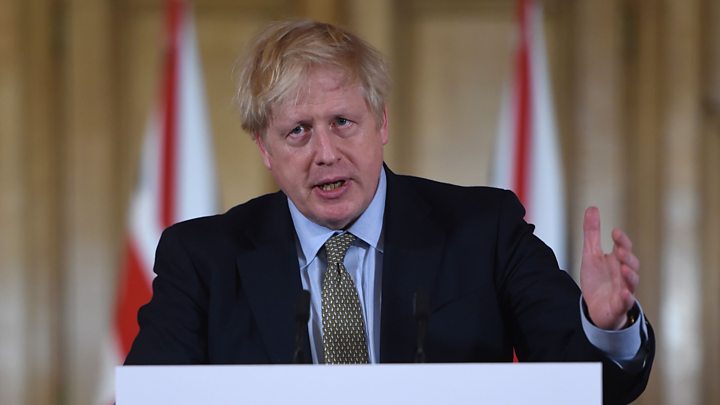 The government has promised to give more details on how school closures will affect students and parents after criticism over a lack of clarity.
A list of the "key workers" during the coronavirus crisis – whose children can still go to school – will be released later, the education secretary said.
He added more details would be given on Friday on how pupils would be awarded grades after some exams were cancelled.
Meanwhile, Downing Street dismissed suggestions of a travel ban in London.
The prime minister's official spokesman said: "There are no plans to close down the transport network in London and there is zero prospect of any restrictions being placed on travelling in and out of London."
Elsewhere, the government's chief medical adviser, Prof Chris Whitty, said the track of the UK epidemic had followed the path "we thought likely".
It comes as Northern Ireland announced its first virus-related death, and three more deaths were confirmed in Scotland.
In other developments across the globe:
China reported no new domestic cases on Wednesday for the first time since the outbreak
But Asian countries are seeing a second wave of infections from people returning home
The EU's chief Brexit negotiator Michel Barnier tweeted he has tested positive for the virus
Confirmed cases worldwide have passed 200,000, while more than 8,000 people have died
On Wednesday it was announced that schools in the UK would close their doors on Friday – except for vulnerable pupils or children of key workers.
GCSEs and A-Levels in England and Wales were also cancelled.
Decisions are due to be made in Scotland and Northern Ireland. Scotland's Education Secretary John Swinney said exams could still go ahead as planned or be re-scheduled.
Education Secretary Gavin Williamson told BBC Breakfast the Cabinet Office would release the full list of key workers later and parents not on the list would be "immediately aware" their child wouldn't be offered a place in school.
The list would include NHS workers, school staff and delivery drivers, he said.
Geoff Barton, general secretary of the Association of School and College Leaders, said he was not expecting schools to open again before September.
He said: "The peak of the virus is expected to be at exams time after which most schools start to wind down, so it was very unlikely that they would reopen in the summer term."
Schools supporting key workers' children will be expected to remain open during the Easter holidays, while officials are considering who is classed under this category.
Mr Williamson said the government was aiming to provide an "education setting" for 10% of the children who usually attend schools.
On the cancellation of exams, Mr Williamson said the aim was to issue children in England and Wales with grades in August under a "different process and a different system".
However, he said he could not "with total guarantee" say they would be released that month as "we don't how the spread of the virus will affect the examining boards and those who issue the grades".
Universities UK said pupils should not lose the chance to go to university this year because of exam cancellations.
Alistair Jarvis, chief executive of Universities UK, said if an appropriate way to assess students could be found – such as a combination of teacher assessments and previous assignments – then awards could be granted this summer.
He told BBC Radio 4's Today programme: "This would allow students to get their grades and the university admission process to go ahead this summer."
The decision to close schools was welcomed by teachers' unions but many called for more detail from the government.
Paul Whiteman, general secretary of the National Association of Head Teachers, said there were "many complicated issues to address" and "we have more questions than answers at the moment".
Parents contacting the BBC expressed concern that predicted grades might be used for results at GCSE and A-level, if pupils did not sit exams.
In other developments in the UK:
Britain's energy suppliers are to help vulnerable customers through the crisis. Measures will include customers who cannot afford their bills getting support from their supplier
The Emperor of Japan's state visit to the UK in May has been postponed because of the outbreak, Buckingham Palace announced. Emperor Naruhito and Empress Masako were due to stay with the Queen at Windsor Castle
Transport for London announced that up to 40 Underground stations would be shut on Thursday and a reduced service would run from Friday. Mayor Sadiq Khan said Londoners should avoid using the transport network "unless absolutely necessary"
Other public transport operators, including Northern Trains, TransPennine Express, South Western Railway and National Express, have started cutting services
The BBC has announced that Sunday services will be broadcast across its 39 local radio stations in England every week for Christian worshippers who cannot get to church. The first service on Sunday at 08:00 GMT will be led by the Archbishop of Canterbury
Restaurants continue to announce closures, with Zizzi and Ask Italian among the latest, although they are planning to keep some sites open to offer delivery
Driving tests in Northern Ireland will be suspended for three months until 22 June, although this date will be kept under review
Meanwhile, the Army said it was "pausing" basic training, which would involve hundreds of recruits at Harrogate, Pirbright, Catterick and Winchester being sent home.
However, a spokesman said it would not affect the Army's ability to support public services as part of the "Covid support force" – which only involves troops who have already gone through basic training.
As part of the support the Army will provide during the pandemic, the number of troops at a heightened state of readiness will be doubled to 20,000 and Reserves will be placed on standby.
Emergency laws to provide new powers to deal with the outbreak have been introduced in Parliament.
The wide-ranging bill includes provisions for border controls, ways of boosting the NHS workforce and making it easier to register a death.
The government says the measures contained within the Coronavirus Bill are proportionate, will only be used when necessary and have a time limit of two years.
But Labour is calling for a fresh vote on the legislation every six months – describing the plans as "far-reaching".
The prime minister has also said he would not rule out imposing further restrictions in London, where the virus is spreading faster than other parts of the UK.
Elsewhere, Environment Secretary George Eustice has ruled out enforcing social distancing measures in supermarkets.
He told the House of Commons: "It was something that was done in Italy, with a restriction on the number of people in stores and what they found was they just had hundreds of people huddled together at the entrance to the store and it's counterproductive."
On Monday, the prime minister announced a series of new key measures to target the number of coronavirus cases after scientific modelling showed the UK was on course for a "catastrophic epidemic".
Boris Johnson said the subsequent decision to close schools was necessary to further slow the spread of the virus.
The UK death toll stands at 108, as of midday on Thursday. Confirmed cases increased to 2,626 on Wednesday – up from 1,950 on Tuesday.
The government says it plans to more than double the number of tests being carried out in England to 25,000 a day.
---
If you are affected by these planned closures you can share your experience by emailing haveyoursay@bbc.co.uk.
Please include a contact number if you are willing to speak to a BBC journalist. You can also contact us in the following ways:


boiler service chertsey

Source link